Podcast: Play in new window | Download (Duration: 1:04:02 — 58.6MB) | Embed
Subscribe: Apple Podcasts | Google Podcasts | Email | RSS | More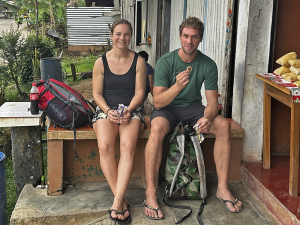 Hello everyone and welcome to Episode 79!  It's been a while since an episode dropped and I hope you all remain safe and healthy out there.
I've had the best excuse for not getting a show out for a while – I've been traveling!  I just got back from two weeks in Madagascar, and before that I spent most of January and February in Peru.  I am home for a while now, so the show schedule will go back to something close to regular for the near future.
So Much Pingle Patrons!  I want to give a big shout-out to the show's newest supporter, Sheri Monk!  Thank you Sheri!  And as always, I want to thank everyone who keeps the show rolling along. And if you're out there listening and you would like to kick in a few bucks, it's easy to do, you simply go to the So Much Pingle Patreon page. You can support the show for as little as three bucks a month – less than a fancy cup of coffee! You can also support the show via one-time contributions via PayPal or Venmo (please contact me via email to somuchpingle@gmail.com).
Our guests this week are Dick Lock and Lieke Verwoerd, who operate the wildlife tour companies Unlock Nature and Herping Suriname.  Dick and Lieke came down to Peru on one of our expeditions, and I got to spend some time getting to know them and it was a pleasure to interview them about what they are up to in Suriname, a place I really want to visit someday.  You can follow Unlock Nature on Facebook and Instagram, and you can follow Herping Suriname on Facebook and Instagram as well.
Thanks for listening everyone! And as always, please keep the comments and suggestions coming, and please take time to rate the show on your podcast platform! The show email is somuchpingle@gmail.com, and there's also a So Much Pingle group on Facebook, for discussion, comments, feedback, suggestions, herp confessions, tips for herping better, etc.
-Mike