Podcast: Play in new window | Download (Duration: 1:13:40 — 67.4MB) | Embed
Subscribe: Apple Podcasts | Google Podcasts | Email | RSS | More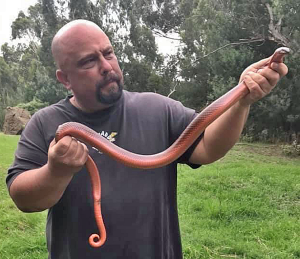 Hello everyone and welcome to Episode 78 and I hope you all remain safe and healthy out there.  After three weeks at home, I am heading back to Peru this afternoon for this year's third and final tour.  I'm happy to get another show out before I leave, and we will touch base again in early March when I return.
So Much Pingle Patrons!  As always, I want to thank everyone who keeps the show rolling along. And if you're out there listening and you would like to kick in a few bucks, it's easy to do, you simply go to the So Much Pingle Patreon page. You can support the show for as little as three bucks a month – less than a fancy cup of coffee! You can also support the show via one-time contributions via PayPal or Venmo (please contact me via email to somuchpingle@gmail.com).
Our guest this week is Daren Riedle. Daren is the Wildlife Diversity Coordinator for the Kansas Department of Wildlife and Parks and he wears many hats as a researcher, administrator, and avid herper.  I recorded this interview in Peru this past January, and I enjoyed the opportunity to herp and just hang out with Daren during our stay.  Our conversation took us from Kansas to South Africa with many points in between.
Thanks for listening everyone! And as always, please keep the comments and suggestions coming, and please take time to rate the show on your podcast platform! The show email is somuchpingle@gmail.com, and there's also a So Much Pingle group on Facebook, for discussion, comments, feedback, suggestions, herp confessions, baby monitors to watch baby monitors, tips for herping better, etc.
-Mike