Podcast: Play in new window | Download (Duration: 47:32 — 43.5MB) | Embed
Subscribe: Apple Podcasts | Google Podcasts | Email | RSS | More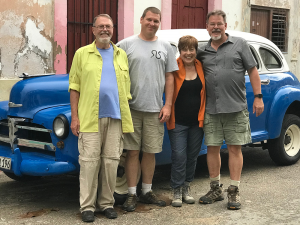 Hello everyone, and welcome to Episode Five!  In this episode I talk with Peter Mooney, a birder, world traveler, and herper from the era when it was called "snake hunting".  A New Jersey native, Mr. Mooney served his country in Vietnam, and afterwards he spent time in teaching school in Jasper County, South Carolina.  Along the way he knew many of the old-school east coast herpers.
I've spent time with Pete in Peru and in Cuba (he's on the far left in the photo, taken in Havana) and I've gotten to know him a bit. I heard some great stories from Pete about snake hunting in the old days, in both the New Jersey Pine Barrens and in the Okeetee area of South Carolina, and I knew I wanted to get him on the show.
I'm know many of you out there are are familiar with the works of Carl Kauffeld and Richard Bartlett, but since they are all out-of-print works that can be hard to find, I will list them here for those who haven't read them yet – these books carry the essence of the old-time snake-hunting days.
Bartlett, Richard D.  In Search of Reptiles and Amphibians.  Published by EJ Brill, 1988.
Kauffeld, Carl F. Snakes: The Keeper and the Kept. Doubleday, 1969
Kauffeld, Carl F. Snakes and Snake Hunting. Hanover House, 1957.
All three are available from used book specialists (I like AbeBooks).
Thanks for coming on the show, Pete, and as always, thanks for listening everyone! The show email is somuchpingle@gmail.com, and there's also a So Much Pingle group on Facebook, for discussion, comments, feedback, suggestions, herp confessions, tips for herping better, etc.
Stay tuned for more episodes! And don't forget to herp better!
-Mike