Podcast: Play in new window | Download (Duration: 1:10:35 — 64.6MB) | Embed
Subscribe: Apple Podcasts | Google Podcasts | Email | RSS | More
Hello everyone!  Here in Episode Six we're trying something a little different – we're talking about origin stories.  How did YOU come into the world of amphibians and reptiles?  Everyone has a story, and on this show we've got five people telling us about theirs.  Four of the interviews were recorded in Peru in January 2020, and one just a few weeks ago. Some of these folks I met for the first time in Peru, and the rest I've known for some time.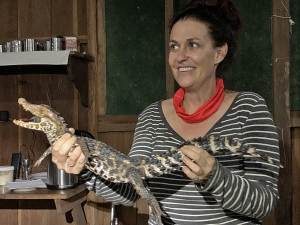 Jill Rials is from Mesa, Arizona, and the critter she is holding is a smooth-fronted caiman (Paleosuchus trigonatus).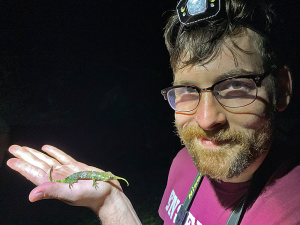 Andrew DuBois is from Lakewood, Colorado.  Here he is enjoying a Pinocchio Anole (Anolis proboscis) in Ecuador.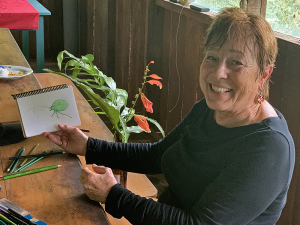 Cynthia Samake lives near Santa Fe, New Mexico.  In this photo she is sketching a leaf-mimic katydid in our Madre Selva field station.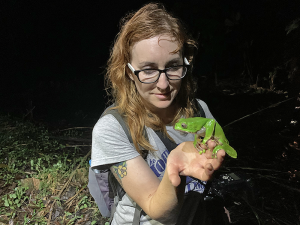 Elizabeth (Liz) Hughes lives in Phoenix, Arizona and here she is with her first giant monkey frog (Phyllomedusa bicolor).
Justin Michels is from Pekin, Illinois.  We herp in Illinois together quite often, and here he is with a large and thankfully tranquil diamondback water snake (Nerodia rhombifer).
I hope you enjoyed our little origin story experiment!  Thanks to Jill, Andrew, Cynthia, Liz, and Justin for coming on the show!, And as always, thanks for listening everyone! The show email is somuchpingle@gmail.com, and there's also a So Much Pingle group on Facebook, for discussion, comments, feedback, suggestions, origin stories, tips for herping better, etc.
Stay tuned for more episodes! And don't forget to herp better!
-Mike