Podcast: Play in new window | Download (Duration: 1:10:43 — 64.8MB) | Embed
Subscribe: Apple Podcasts | Google Podcasts | Email | RSS | More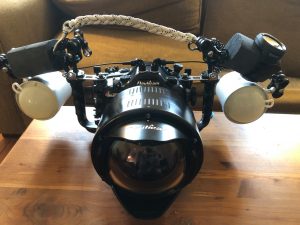 Hello everyone!  Episode Nine finds us both in and out of the water with photographer/herper Matt Sullivan.  Two shows in a row where we dip ourselves in the drink to visit with fascinating creatures!  We'll have time to dry off before our next installment, but for the moment, we'll talk with Matt about his experiences photographing both herps and cool aqua-creatures.  Matt's underwater camera housing is featured in photo left – an awesome rig.
Matt's photography portfolio page is 9 Miles North (love the name).  If you can, check it out before or during the podcast because we talk about some of the photos from his page.
Matt was also featured as Dive Photo Guide's Photographer of the Week – pretty cool.
And he was a featured guest on the Wildlife Inspired YouTube channel – 10 Images With Matt Sullivan – I think you'll enjoy a number of those episodes along with Matt's.
During our conversation, we also talked about Monterey Bay, and Matt alerted me to the Monterey Bay Aquarium Research Institute's channel on Instagram – mbari_news – where you can ogle ocean critters non-stop.  Check it out!
Thanks for coming on the show Matt!  I thoroughly enjoyed our conversation.  And as always, thanks for listening everyone!
The show email is somuchpingle@gmail.com, and there's also a So Much Pingle group on Facebook, for discussion, comments, feedback, suggestions, Nemo sightings, octopi versus octopusses, herp confessions, tips for herping better, etc.
Stay tuned for more episodes! And don't forget to herp better!
-Mike