Podcast: Play in new window | Download (Duration: 1:11:00 — 65.0MB) | Embed
Subscribe: Apple Podcasts | Google Podcasts | Email | RSS | More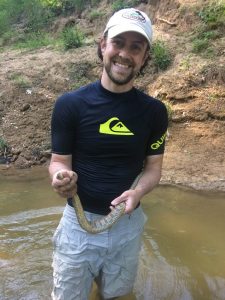 Hello everyone!  For Episode Eight, we take a deep breath and submerge ourselves into the world of the Hellbender via a conversation with Nick Burgmeier.  When it comes to cryptobranchids (hellbenders are in the family Cryptobranchidae, along with the Chinese and Japanese giant salamanders), Nick is a subject matter expert.  I enjoyed talking with Nick on the subject, especially since he and his colleagues have made great progress in protecting Indiana hellbenders.  Nick is featured in the photo at left, with a hellbender, which is inside the water snake he's holding – we realize that even water snakes gotta eat, but why not a delicious bass?
Nick provided a ton of links to hellbender materials – this is part of a comprehensive effort to educate kids, landowners, fishermen, etc.
Help the Hellbender:
Website
Facebook
Instagram
Brochures:
Help the Hellbender, North America's Giant Salamander
How Our Zoos Help Hellbenders
Lesson Plans: These are standards based lessons that can be used in classrooms, home schooling, etc.
Videos: Just some short videos we've made over the last few years.
Thanks for coming on the show, Nick, it was great to talk with you about snot otters!  And as always, thanks for listening everyone!
The show email is somuchpingle@gmail.com, and there's also a So Much Pingle group on Facebook, for discussion, comments, feedback, suggestions, alternate names for hellbenders, herp confessions, tips for herping better, etc.
Stay tuned for more episodes! And don't forget to herp better!
-Mike