Podcast: Play in new window | Download (Duration: 46:04 — 42.2MB) | Embed
Subscribe: Apple Podcasts | Google Podcasts | Email | RSS | More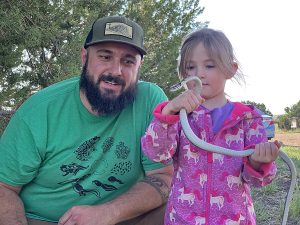 Hi folks!  For Episode Eleven, we have an interview that I recorded last month, on location in eastern Colorado, with Tim Warfel and Hunter Johnson.  The main thrust of our conversation was the recently concluded COPARC Otero County herp survey, and we managed to cover a few other topics as well.  This was the eighth Otero survey and I was happy to participate, and to hang out with a lot of Colorado herpers.  We found some pretty cool herps as well.  In photo left is Ryan and Cambria Borgmann.  Cambria was the youngest participant, and she got to see her first horned lizard and her first rattlesnake.  Guess who the oldest surveyor was?
Herp surveys and bio-blitzes are great ways to meet and hang out with herpers, biologists, and others of like mind, while seeing some cool herps and helping with conservation and research efforts.  For more information about upcoming COPARC surveys and other activities, join the COPARC Facebook group. There are some photos of CO herps and shots from the recent survey as well.
Also, check out the COPARC web page for more information on the group's activities.  COPARC is a local chapter of PARC (Partners in Amphibian and Reptile Conservation)
One more item – I threw together a trip report for the event on my Notes From The Field blog.  Oh yes, and thanks to Jill Rials and Michael Moffat for the intro!  🙂
The show email is somuchpingle@gmail.com, and there's also a So Much Pingle group on Facebook, for discussion, comments, feedback, suggestions, dinosaur bones, herp confessions, tips for herping better, etc.
Stay tuned for more episodes! And don't forget to herp better!
-Mike