Podcast: Play in new window | Download (Duration: 1:11:59 — 65.9MB) | Embed
Subscribe: Apple Podcasts | Google Podcasts | Email | RSS | More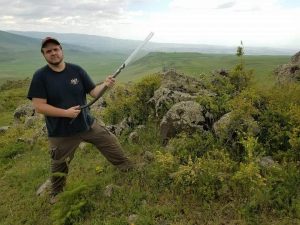 Hey there herpsters, it's Episode Fourteen!  What shall we talk about?  Let's ask the triumphant dude on the left, the one with the little viper in a tube.  That's Justin Elden, the viper is Armenian (Montivipera raddei), and guess where they are?  In this episode, I talk with Justin about his involvement with the St. Louis Zoo's mountain viper conservation project, (be sure to check out the link for more info and cool photos).
Justin and I both grew up in the St. Louis area, and we had a lot to talk about.  The time just flew by as we covered a number of topics, and we talked so much that I decided to split the interview into two parts!  Both episodes drop today, so bonus!  There's more to come with Mr. Elden and you won't be disappointed.
Thanks for talking with me, Justin, and thanks for listening, everyone!  The show email is somuchpingle@gmail.com, and there's also a So Much Pingle group on Facebook, for discussion, comments, feedback, suggestions, trainspotting, scary bear stories, herp confessions, tips for herping better, etc.
Stay tuned for more episodes! And don't forget to herp better!
-Mike