Podcast: Play in new window | Download (Duration: 1:01:54 — 56.7MB) | Embed
Subscribe: Apple Podcasts | Google Podcasts | Email | RSS | More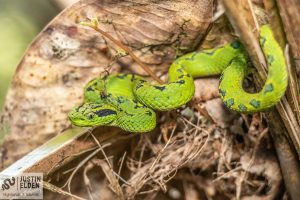 Hello again everyone, here is Episode Fifteen, the second part of my conversation with Justin Elden on this Sunday double-fun day.  The main thrust of our conversation is Justin's work in Guatemala with the Highlands and Islands Conservatory, which is centered around the pictured Guatemalan pit viper, Bothriechis aurifer, but of course includes other herps and more importantly, their habitats.  And of course, we wandered off topic, but in ways you'll appreciate!
Justin and his associates put in a lot of time and effort with this conservation project, and that includes getting the local people involved, and in some cases employed. So what can YOU do to help?  Pretty simple – buy a tshirt or other merch at the links below and I will say thanks in advance!
The Highlands and Islands Conservatory also has a FaceBook page that you can follow.  I'm also including a link to the associated Ranchitos del Quetzal Natural Reserve, where birders come to see the Resplendant Quetzal, and which I myself hope to visit when travel is again open and safe.  I might even look for a quetzal.
Here's the link to Highlands and Islands merchandise, which feature Bothriechis aurifer, and here is the link to the original Mayan t-shirt design, which is pretty cool as well.
One more bit of Herp Love:  here's a link to the FaceBook page of Andres Novales, who is involved with the conservation projects with his buddy Justin.  Andres shares his great photos of Guatemalan wildlife on his page.  Check it out!
And on a final note: we make fun of Marlin Perkins a bit, but the dude was pretty bad-ass in all actuality….
Once again, thanks Justin for coming on the show!  And thanks for listening, everyone!  The show email is somuchpingle@gmail.com, and there's also a So Much Pingle group on Facebook, for discussion, comments, feedback, suggestions, herp confessions, tips for herping better, etc.
Stay tuned for more episodes! And don't forget to herp better!
-Mike