Podcast: Play in new window | Download (Duration: 1:20:34 — 73.8MB) | Embed
Subscribe: Apple Podcasts | Google Podcasts | Email | RSS | More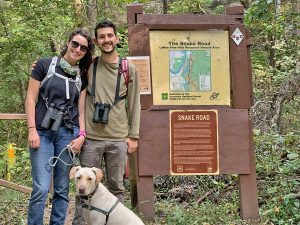 Hello everyone and welcome back to the show!  After a few weeks off, here we go with Episode Nineteen, which features Dr. Alex Krohn.  Alex and I have been friends for a decade, and we have visited some exotic places, and had many an interesting conversation, so I am happy to have one more conversation to share with you!
Alex is the assistant director of the Kenneth S. Norris Center for Natural History at the University of California, Santa Cruz.  I took the photo of Alex, his wife Allie, and their dog Juniper at the south end of Snake Road a few days ago.  It was great to hang out with the three of them while seeing some cool serpents on the road.  Thanks for coming on the show, Alex, it was great to talk with you again!
FUTURE SHOW NOTE:  In the intro I asked everyone to send me interesting herp jargon!  Get those pithy phrases and clever words to me via the show email below, and we'll get a future episode together from the results.
And as always, please keep the comments and suggestions coming!  The show email is somuchpingle@gmail.com, and there's also a So Much Pingle group on Facebook, for discussion, comments, feedback, suggestions, herp confessions. nights at the museum, tips for herping better, etc.
Stay tuned for more episodes! And don't forget to herp better!
-Mike