Podcast: Play in new window | Download (Duration: 56:04 — 51.3MB) | Embed
Subscribe: Apple Podcasts | Google Podcasts | Email | RSS | More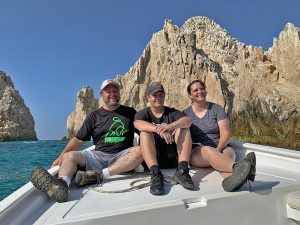 Hello everyone and welcome to Episode Twenty One!  I recorded a bunch of material while in Mexico back in September, including this episode with Shaun, Jeni, and Brandon Vought.  I recorded our interview at the Casa Juarez bed and breakfast in La Paz (an excellent place operated by a lovely Italian couple), where we stayed before visiting Isla Cerralvo just off the coast.  Herping families are a fairly common thing now, which I think is pretty cool, and so I was happy to get the Voughts talking about their experiences.  A herping family and a family of metal heads as well (hence the intro done by Shaun and Brandon).  I hope you enjoy our conversation – I know a number of parents who provide their children with full experiences out in the wide world, and not just with amphibians and reptiles.  And I'm proud to know them.
FUTURE SHOW NOTE:   I am still asking you to send me interesting herp jargon!  I've got a neat little pile, but I need more!  Get those pithy phrases and clever words to me via the show email below, and we'll get a future episode together from the results!
And as always, please keep the comments and suggestions coming!  The show email is somuchpingle@gmail.com, and there's also a So Much Pingle group on Facebook, for discussion, comments, feedback, suggestions, herp confessions. heavy metal t-shirts, tips for herping better, etc.
Stay tuned for more episodes! And don't forget to herp better!
-Mike