Podcast: Play in new window | Download (Duration: 1:12:26 — 66.3MB) | Embed
Subscribe: Apple Podcasts | Google Podcasts | Email | RSS | More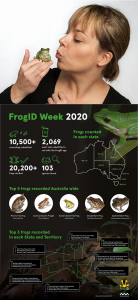 Hello everyone and welcome to Episode Thirty Three!  The polar vortex continues here in east-central Illinois, the mercury is pooled at the bottom of the thermometer, so put on a sweatshirt, make yourself a cuppa, and pull up a piping hot episode about frogs!  Our guest this week is Jodi Rowley, a conservation biologist with the Australian Museum in Sydney.  Jodi has been involved with frog field research in Australia, Cambodia, Vietnam, and other places, and she is also involved with a very cool community science project called FrogID.
On her Facebook page, Jodi describes herself as "a conservation biologist obsessed with amphibians", which is something a lot of us can identify with.  I've enjoyed her enthusiasm and passion for frogs on social media and I was not surprised to have those signals come in loud and clear during our conversation.  Along with her field research, we discussed the Australian FrogID project, which has been tremendously successful in getting ordinary folks involved with recording calling amphibians, and these days, species conservation absolutely requires the attention and involvement of everyone.
Thanks for coming on the show, Jodi!  I had a great time talking about frogs (I guess that's no surprise to anyone).  And folks, you can follow the FrogID project on Facebook, Twitter, and Instagram as well.
PARC:  As I mentioned in the show, here are some links for Partners in Amphibian and Reptile Conservation:  the main PARC page, and a 'find PARC' page with a map that identifies which PARC chapters cover which regions.  Check it out!
PATREONERS!  Thank you so much to all of my Patreoners for supporting the show! I really appreciate it. To others in the listening audience, if you like the show, please consider supporting it via the So Much Pingle Patreon page. And thanks in advance!
And as always, please keep the comments and suggestions coming, and please take time to rate the show on your podcast platform! The show email is somuchpingle@gmail.com, and there's also a So Much Pingle group on Facebook, for discussion, comments, feedback, suggestions, herp confessions, frog calls you can learn from home, tips for herping better, etc.
Cheers!  Mike