Podcast: Play in new window | Download (Duration: 1:22:25 — 75.5MB) | Embed
Subscribe: Apple Podcasts | Google Podcasts | Email | RSS | More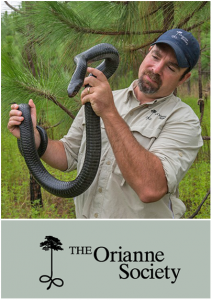 Hello everyone and welcome to Episode Thirty Four!  Here's a shout-out to all of the people in Texas, I hope today finds you recovering from the terrible weather last week.  Much warmth and good wishes to everyone.
PATREONERS!  Here's a shout-out to new Patreon contributors to the show since the last episode:  Bill Peterman, Cynthia Samake, and Paul-Erik Bakland!. Thank you Bill and Cynthia and Paul-Erik!   And thanks so much to all of my Patreoners for supporting the show! I really appreciate it. To others in the listening audience, if you like the show, please consider supporting it via the So Much Pingle Patreon page. And thanks in advance!
Our guest this week is Dr. Chris Jenkins, CEO of the Orianne Society.  In addition to operating Orianne, Chris also hosts the Snake Talk podcast, which is great and I've enjoyed listening to about half of the episodes so far, and I also made an appearance on the show with Don Becker to talk about the HerpMapper Project.  Of course I wanted to talk with Chris about Orianne, and about Snake Talk, but we also talked about rattlesnakes!  I'm always down to chat about crotes, and it was good to hear Chris's perspective on observing and enjoying our buzzy buddies in the wild, and not surprisingly, we share some of the same sentiments about enjoying rattlesnakes in a hands-off manner.
I had a great talk with Dr. Jenkins and I hope you all take the time to visit the Orianne Society's landing page and see what the organization is all about.  And if you haven't already done so, check out Snake Talk!  You can reach it via the Orianne page, or search for it on your favorite podcast platform. Thanks for coming on the show, Chris!
And as always, please keep the comments and suggestions coming, and please take time to rate the show on your podcast platform! The show email is somuchpingle@gmail.com, and there's also a So Much Pingle group on Facebook, for discussion, comments, feedback, suggestions, herp confessions, places you've never herped but really want to, tips for herping better, etc.
Cheers!  Mike