Podcast: Play in new window | Download (Duration: 1:31:13 — 83.5MB) | Embed
Subscribe: Apple Podcasts | Google Podcasts | Email | RSS | More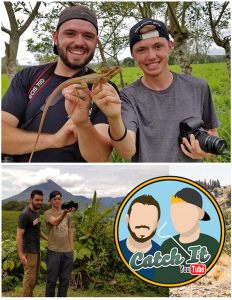 Hello again, everyone, and welcome to Episode Forty Three!  I hope you all remain safe and healthy as we move through July and into the peak of summer (sort of, it's been very rainy and mild where I live for the past few weeks).
Patrons!  Thanks as always to all of the folks who help keep the show going. To others in the listening audience, if you like the show, please consider supporting it via the So Much Pingle Patreon page. You can also support the show via one-time contributions via PayPal or Venmo (please contact me via email to somuchpingle@gmail.com).
For this episode, I talked with Jeff and Berk Martineau from Mesa, Arizona, and I appreciate them giving me some of their time in the middle of peak herping season out their way. I recently got acquainted with these two herp enthusiasts, and I missed a chance to record with them in person earlier this spring (the wind in the desert was howling that night).
Berk and Jeff have a channel called 'Catch It' on YouTube, and we discussed how that got started, and how their content, style, and delivery have changed over time.  A healthy set of subscribers means that extra care must be taken with the show's content and I appreciated our discussion about this, and the brothers' thoughtful approach.  We also talked about field herping in various places and I really enjoyed their energy and enthusiasm.
The brothers are both on Instagram as @JB_Martineau (Berk) and @WJMartineau (Jeff), and be sure to check out their Catch It channel on YouTube.  Jeff also does some herp-related artwork in various media, including t-shirts and decals, so be sure to check that out, lots of awesome designs.
Thank you Jeff and Berk, really great to hang out and chat with you two!  And thanks for listening everyone!  And as always, please keep the comments and suggestions coming, and please take time to rate the show on your podcast platform! The show email is somuchpingle@gmail.com, and there's also a So Much Pingle group on Facebook, for discussion, comments, feedback, suggestions, herp confessions, MEMs, tips for herping better, etc.
Cheers!  Mike