Podcast: Play in new window | Download (Duration: 1:25:11 — 78.0MB) | Embed
Subscribe: Apple Podcasts | Google Podcasts | Email | RSS | More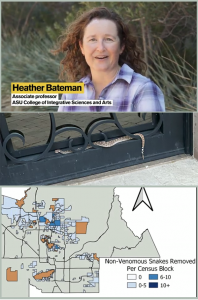 Hello again, everyone, and welcome to Episode Forty Four!  I hope you all remain safe and healthy out there!  It's hot, humid, and full-bore summer here at the SMP world headquarters, so I took a little time off yesterday for some creek walking and queen-snaking.  The cold water felt great and there were plenty of Nerodia sipedon and Regina septemvittata to observe.  I like the fact that when it's miserably hot, I can change my game a little and still get some herp-time in.
Patrons!  Thanks as always to all of the folks who help keep the show going. To others in the listening audience, if you like the show, please consider supporting it via the So Much Pingle Patreon page. You can also support the show via one-time contributions via PayPal or Venmo (please contact me via email to somuchpingle@gmail.com).
This week's guest is Dr. Heather Bateman, an associate professor at at Arizona State University's College of Integrative Science and Arts, and a wildlife ecologist as well as an educator.  Heather is the recent co-author of the paper "Unwanted Residential Wildlife: Evaluating Social-Ecological Patterns for Snake Removals" published in Global Ecology and Conservation earlier this year  It's an interesting paper and a little complicated, and I'm grateful to Dr. Bateman for unpacking the publication and breaking it down for me.  Also, ASU put together a short 3 min video that gives a little back story to the Bateman et al. paper – it's very well done and it features Heather and Bryan Hughes and some cute buzztails, so be sure to check it out!
Thanks for coming on the show, Heather!  I thoroughly enjoyed our conversation and we also chatted about some of her other projects (she is a busy person!). And as always, thanks for listening everyone!  Please keep the comments and suggestions coming, and please take time to rate the show on your podcast platform! The show email is somuchpingle@gmail.com, and there's also a So Much Pingle group on Facebook, for discussion, comments, feedback, suggestions, herp confessions, tips for herping better, etc.
Cheers!  Mike