Podcast: Play in new window | Download (Duration: 1:48:47 — 99.6MB) | Embed
Subscribe: Apple Podcasts | Google Podcasts | Email | RSS | More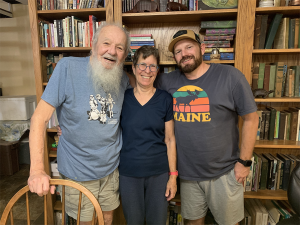 Hello everyone and welcome to Episode Fifty Two!  Things are good here in central Illinois, and I hope you all remain safe and healthy out there.  Safe travels if you are journeying for the Thanksgiving holiday this week.
Patrons!  I want to give a shout-out to new Patreon member Alicia Ballard!  Thank you Alicia, much appreciated!  And thanks as always to all of the folks who help keep the show going and to reach fifty episodes!. To others in the listening audience, if you like the show, please consider supporting it via the So Much Pingle Patreon page. You can also support the show via one-time contributions via PayPal or Venmo (please contact me via email to somuchpingle@gmail.com).
Now let's get to this week's episode. I made a trip to Florida in October, ostensibly to do some herping, and I had a great time with that, but I also scheduled an interview while I was down there, and so I spent one very fun evening with Dick Bartlett and his wife Patti, along with Jake Scott. Now if you've spent any time at all in the world of amphibians and reptiles, you know about Dick Bartlett, and many of you have at least one of the many books put out by Dick and Patti over the years.
While I was dreaming up this podcast back in 2019, I knew I wanted to get Dick and Patti on the show as guests, and I wanted to get Jake involved as well, since he and Dick travel a lot together and I felt the three of them would play off each other during the conversation. I think you'll agree that my intuition was spot-on in that regard. Sitting at the kitchen table and talking herps with Dick and Patti and Jake for a couple hours was an amazing experience, and I hope you enjoy it as much as I did.
Thanks for coming on the show Dick, Patti and Jake, it was fun talking with all of you!  And thanks for listening everyone!  And as always, please keep the comments and suggestions coming, and please take time to rate the show on your podcast platform! The show email is somuchpingle@gmail.com, and there's also a So Much Pingle group on Facebook, for discussion, comments, feedback, suggestions, herp confessions, how to tell if you are a placental lizard, tips for herping better, etc.
Cheers!  Mike