Podcast: Play in new window | Download (Duration: 45:03 — 41.2MB) | Embed
Subscribe: Apple Podcasts | Google Podcasts | Email | RSS | More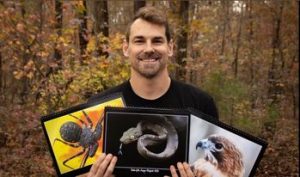 Hello everyone and welcome to Episode Fifty One!  Things are good here in central Illinois, and I hope you all remain safe and healthy out there. It's good to be back, I've been a bit busy over the past few weeks, first there was my usual fall visit to Snake Road, which for me at this point is a chance to see old friends and make some new ones. After that I headed down to Florida to do a little herping, and  I managed to get some cool lifers, including Blue-striped Ribbons and Blue-striped Garters, which I had only previously seen DORs. Oh, and my first swamp snake Liodytes pygaea, which got me more than a little excited. I also got to observe a couple Florida softshells foraging in shallow water, and I got some nice photos of that. Elevated boardwalks can be so good for turtle watching. I also got to see several Florida scrub lizards, Sceloporus woodi. There were also Suwannee cooters and gopher tortoises and corn snakes and rat snakes and an Eastern Diamondback, so a pretty good trip, and of course I also recorded some material for the show and I can't wait to get that out to you all.
Patrons!  I want to give a shout-out to new Patreon member Sal Scibetta!  Thank you Sal, much appreciated!  And thanks to Michael Moffat, who increased his monthly contribution – thanks Michael!  And thanks as always to all of the folks who help keep the show going and to reach fifty episodes!. To others in the listening audience, if you like the show, please consider supporting it via the So Much Pingle Patreon page. You can also support the show via one-time contributions via PayPal or Venmo (please contact me via email to somuchpingle@gmail.com).
I'm very happy to have Bob Ferguson back on the show, many of you will recall that Bob was featured on Episode 7 way back in the day. So I brought Bob back on to talk about his calendar project which I think is amazing. If you know Bob even a little, you're aware he's a very passionate person, with a lot of energy. Bob's been producing and selling calendars for ten years now and he's raising a ton of dough for some worthwhile causes that support herps and other wildlife, and I'm just in awe of what he's accomplished with it.
Getting Calendars – you can contact Bob directly via social media, or you can visit his Fascinature Etsy shop for easy-peasy ordering.  If you use the Etsy option, there's a coupon code for 5 dollars off a calendar, and that code is PINGLE5. If you order two calendars, use the code PINGLE10 for five bucks off each. Three calendars, PINGLE15, and if you want to order more than three, contact Bob and he'll give you the details on some bulk discounts and remember folks, all the proceeds go to a good cause.
Thanks for coming on the show Bob, it was fun talking with you again!  And thanks for listening everyone!  And as always, please keep the comments and suggestions coming, and please take time to rate the show on your podcast platform! The show email is somuchpingle@gmail.com, and there's also a So Much Pingle group on Facebook, for discussion, comments, feedback, suggestions, herp confessions, how to tell if you are a placental lizard, tips for herping better, etc.
Cheers!  Mike