Podcast: Play in new window | Download (Duration: 1:33:38 — 85.7MB) | Embed
Subscribe: Apple Podcasts | Google Podcasts | Email | RSS | More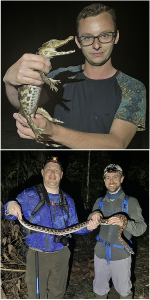 Hello everyone and welcome to Episode Sixty Two!  I hope all of you remain safe and healthy out there as we roll into Season Three!
First of all, I want to thank all of the patrons of the show – we would not be kicking off a third season without you and I appreciate your support.   To others in the listening audience, if you like the show, please consider supporting it via the So Much Pingle Patreon page. You can also support the show via one-time contributions via PayPal or Venmo (please contact me via email to somuchpingle@gmail.com).
It is great to be back in the studio again after what seemed like a long time away.  If you're on social media, chances are you already know I spent 21 days in Greece, Hungary, and Slovenia.  And about two hours in Italy.  But mostly Greece, which was amazing and I and I can't wait to return there.  It was a big herping trip and my group did quite well over there, finding more than fifty species, and some of them iconic European herps. I have been reading about these species for the past half century, so it was pretty special to see some of them, like marginated tortoises, and four-lined rat snakes and green lacertas, along with European pond turtles, vipers and Aesculapian snakes.
But it's good to be back home and I thank you all for your patience while I was away. A few final bits of housekeeping – as I mentioned earlier, I've got an AMA slash origin stories show featuring yours truly coming up this summer (and it's the summer of 2022).  AMA means Ask Me Anything, so if you've got some questions for me, QUESTIONS THAT CAN BE READ ON A CLEAN-RATED SHOW, send 'em in to somuchpingle at gmail dot com.  I've got some responses already and thank you folks for those.
HERPETOLOGY SUMMER CAMP!  Coming up this summer! Through their Compass Summer Experience program, Montreat College is hosting their annual Herpetology Summer Camp for high school students, from June 19th thru the 24th, with an option for an additional week thru July 1st.  The camp is hosted by Professor Josh Holbrook, and students will experience amphibians and reptiles through a blend of classroom and field sessions.  For more information and to register, see the Herpetology Summer Experience page.
For this show, we're reaching back to some recordings I made in Peru last January.  We have Origin Stories from Tom Williams, Greg Stephens, and Nick Burgmeier. Tom is from the UK and I hadn't met him in person before Peru, he's a world traveler and a real ball of fire and I enjoyed spending some time in the field with him.  Greg and Nick are old friends of mine, and so I interviewed them together, as they are buddies with a lot of shared experiences.  As I've said before it's a lot of fun when my friends come to Peru for the first time and I get to be there when their minds are blown, and I especially enjoyed having these two come down to the hot and sweaty rain forest.
Thanks Tom, Greg and Nick for coming on the show and sharing your experiences! And thanks for listening everyone! And as always, please keep the comments and suggestions coming, and please take time to rate the show on your podcast platform! The show email is somuchpingle@gmail.com, and there's also a So Much Pingle group on Facebook, for discussion, comments, feedback, suggestions, herp confessions, getting mambas out of trees, tips for herping better, etc.
Cheers! Mike