Podcast: Play in new window | Download (Duration: 1:54:19 — 104.7MB) | Embed
Subscribe: Apple Podcasts | Google Podcasts | Email | RSS | More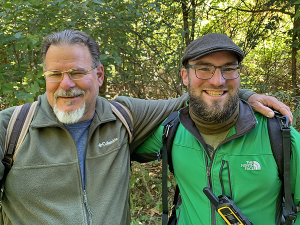 Hello everyone and welcome to Episode Sixty Nine!  And for the first time, we have a guest host, Josh Holbrook, who graciously agreed to turn things around and ask me some questions.  Since I started the podcast, I have received many requests along the lines of "I wanna hear someone interview YOU!".  I figured I would just keep putting this off but okay, here it is!  Like most people I'm not entirely comfortable talking about myself but Josh made things easy and we rolled along for almost two hours.  This interview was conducted in June of 2022 at the Santa Cruz field station near Iquitos, Peru.
As always, I want to take a minute to thank all of the show's patrons – there are costs associated with running any entertainment channel and I am grateful to all of you for keeping this little boat afloat.  And if you're out there listening and you would like to kick in a few bucks, it's easy to do, you simply go to the So Much Pingle Patreon page. You can support the show for as little as three bucks a month – less than a fancy cup of coffee! You can also support the show via one-time contributions via PayPal or Venmo (please contact me via email to somuchpingle@gmail.com).
Thanks again Josh, for the great interview!
And thanks for listening everyone! And as always, please keep the comments and suggestions coming, and please take time to rate the show on your podcast platform! The show email is somuchpingle@gmail.com, and there's also a So Much Pingle group on Facebook, for discussion, comments, feedback, suggestions, herp confessions,, tips for herping better, etc.
Cheers! Mike