Podcast: Play in new window | Download (Duration: 1:12:21 — 66.2MB) | Embed
Subscribe: Apple Podcasts | Google Podcasts | Email | RSS | More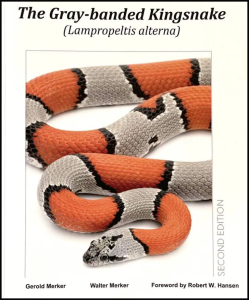 Hello everyone and welcome to Episode Eighty One!  And Season Four!  And while we're at it, I hope you all remain safe and healthy out there.
In this episode, I talk with Gerold Merker, who with his son Walter recently published an updated edition of The Gray-banded Kingsnake, which I think is a fabulous book.  I talk with Gerold about the book, about west Texas, and of course, Gray-bands!  The book is available from Eco Wear and Publishing.
So Much Pingle Patrons! A big thank you to Gerold Merker, our newest patron and the star of this episode as well.  And as always, I want to thank everyone who keeps the show rolling along. And if you're out there listening and you would like to kick in a few bucks, it's easy to do, you simply go to the So Much Pingle Patreon page. You can support the show for as little as three bucks a month – less than a fancy cup of coffee! You can also support the show via one-time contributions via PayPal or Venmo (please contact me via email to somuchpingle@gmail.com).
And given that we're now kicking off Season Four, I want to take a little time to mention all of the folks who have contributed to show via Patreon or one-time contributions:  Justin Michels, Jason Jones of Herp MX, Smetlogik AKA Rob Kreutzer, Ryan Borgmann, Joshua Wallace, Jill Rials, Marty Whalin, Chris Smith, Dr. Emily Taylor, John Burris, Kamil Scepanski, Brandon Kong, Issac Chellman, Dr James van Dyke, Brandon Ballard, Mike Rochford, Josef Thompson, Dr. Alex Krohn, Matt Ratcliffe, Jeroen Speybroek, Bryan Hughes, Brandon Bourassa, Josh Holbrook my favorite co-author, James McGhee, Michael Moffat, Andy O'Connor, Jake Scott, Deb Krohn, Duane McDermott, John Sullivan, Josh Emms, Justin Elden, Matt Cage, Patrick Connolly, Chris McMartin, Michael Cravens, Ana Ware, Tim Warfel, David Burkart, Adam Cooner, Dr. Bill Peterman, Cynthia Samake, Paul-Erik Bakland, William Bone, Jeremiah Easter, Richard Legere (AKA Squeaks), Tom Eles, Jeremy Schumacher, Neill Jones, Alec Gordon, Martin Habecker, Daniel Dye, Clint Henke, Ross Maynard, Nick Sobel, Moses Michelsohn, Myles Masterson, Ben Genter, Pearson McGovern, Tom Eles again, Sal Scibetta, Alicia Ballard, Ben Stegenga, Kam Delahoz, Dave Weber, JJ Apodaca, the Urbanek family, Will McManus, Jason Folt, Lawrence Erickson, Wes Redridge, Christian Diederich, Brad Allen,Ian Kanda,  Kim Brown, Andrew Davis, Dick Bartlett, Craig Howard, Sheri Monk, Ian Kanda again, and finally, Gerold Merker.  My apologies for any mispronunciations, or if I left anyone out (pretty sure I didn't).  What can I say?  Thank you, all of you, for supporting this show, I am more grateful than I can possibly express to you all.
I also want to thank all the folks who I've talked to over the course of three seasons –easily a hundred or more people and I'll skip reading all those names.  I've enjoyed talking with each and every one of you.
Thank you Gerold Merker for starting off Season Four on a high note!  And thanks for listening everyone! And as always, please keep the comments and suggestions coming, and please take time to rate the show on your podcast platform! The show email is somuchpingle@gmail.com, and there's also a So Much Pingle group on Facebook, for discussion, comments, feedback, suggestions, herp confessions, tips for herping better, etc.
-Mike