Podcast: Play in new window | Download (Duration: 1:21:38 — 74.7MB) | Embed
Subscribe: Apple Podcasts | Google Podcasts | Email | RSS | More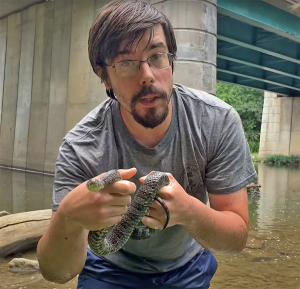 Hello everyone and welcome to the show!  Mike Pingleton here, and I am your host for these proceedings.  And here we go with Episode Eighty Two, and I hope you all remain safe and healthy out there.  It's a lovely Sunday morning in May and I can't wait to get out in it after I'm done putting this together.
So Much Pingle Patrons! A big thank you to the show's newest patron, Skylar Hopkins!  Thank you Skylar! And as always, I want to thank everyone who keeps the show rolling along. And if you're out there listening and you would like to kick in a few bucks, it's easy to do, you simply go to the So Much Pingle Patreon page. You can support the show for as little as three bucks a month – less than a fancy cup of coffee! You can also support the show via one-time contributions via PayPal or Venmo (please contact me via email to somuchpingle@gmail.com).
Our guest this week is Dr. Andrew Hoffman lately of The Ohio State University, and we talk about bucket cams, rattlesnakes, outreach and education, the Life Underfoot You Tube channel, and Andrew's new job as assistant professor at St. John Fisher University.
Thanks for talking with me Andrew! And thanks for listening everyone! And as always, please keep the comments and suggestions coming, and please take time to rate the show on your podcast platform! The show email is somuchpingle@gmail.com, and there's also a So Much Pingle group on Facebook, for discussion, comments, feedback, suggestions, herp confessions, methods for picking up water snakes, tips for herping better, etc.
-Mike