Podcast: Play in new window | Download (Duration: 1:07:51 — 62.1MB) | Embed
Subscribe: Apple Podcasts | Google Podcasts | Email | RSS | More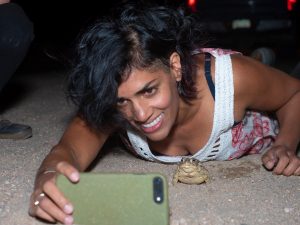 Hello everyone and welcome! Episode Seventeen features my conversation with Priya Nanjappa (photo courtesy of Kevin Urbanek). Among other things, Priya spent ten years with the Association of Fish and Wildlife Agencies (AFWA), and served as the state agencies coordinator for Partners in Amphibian and Reptile Conservation (PARC), and she currently serves as one of the commissioners on the Colorado Oil & Gas Conservation Commission. During our conversation, we got into the nuts and bolts of wildlife conservation, and we also talked about the Recovering America's Wildlife Act, which should be of interest to anyone who enjoys herps (or any wildlife, for that matter). From Rep Dingell's press release: "RAWA is the most signification investment in wildlife and habitat conservation in a generation. The bill would dedicate roughly $1.4 billion to the Wildlife Conservation Restoration Program for proactive, voluntary efforts led by the states, territories and tribal nations to prevent vulnerable wildlife from becoming endangered." That's 1.4 billion EVERY YEAR, folks.
On another note, you all should know that So Much Pingle is not Priya's first podcast rodeo – we also talked about her guest appearance (as it were) on Alie Ward's Ologies podcast, where the subject was "Bufology". You can listen to the Ologies toad episode on your favorite podcast platform. You can also follow Priya on twitter (@toadallypriya) and on Instagram (wildbeautifulworld).
Thanks for coming on the show, Priya, and hanging in there while we worked through some technical difficulties! And thanks for listening, everyone! Please keep the comments and suggestions coming! The show email is somuchpingle@gmail.com, and there's also a So Much Pingle group on Facebook, for discussion, comments, feedback, suggestions, herp confessions. toad therapy, tips for herping better, etc.
Stay tuned for more episodes! And don't forget to herp better!
-Mike