Podcast: Play in new window | Download (Duration: 1:17:40 — 71.1MB) | Embed
Subscribe: Apple Podcasts | Google Podcasts | Email | RSS | More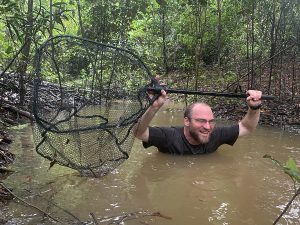 Hey there everyone!  Welcome to Episode Twenty Four!  Thanks for your patience, I had a lot of crazy stuff going on over the past couple of weeks!  I think I'm back on track again and I plan on releasing another episode next week for the U.S. Thanksgiving holiday.  This week's guest is my friend and co-author, Josh Holbrook, and this past October I got to sit around a campfire with Josh, down in the Shawnee National Forest in southern Illinois, and we had a nice fireside chat.
The picture of Josh that I chose for these show notes was taken down in the Peruvian rainforest last March.  Josh is an ecologist who specializes in wetlands, and he was in the process of setting a series of aquatic traps in a small forest creek.  Looking at the photo, I think it's safe to say that Josh was having a pretty good time!
FUTURE SHOW NOTE:   My request for herp jargon is coming to an end – the window closes after this weekend!  I've got a neat little pile, but I could use a little more!  Get those pithy phrases and clever words to me via the show email below, and we'll get a future episode together from the results!
STATE OF THE PODCAST NOTE:  I'm still working on making some merchandise available, and I hope to have that and a Patreon supporter page available soon!  Thanks for your patience!
And as always, please keep the comments and suggestions coming!  The show email is somuchpingle@gmail.com, and there's also a So Much Pingle group on Facebook, for discussion, comments, feedback, suggestions, herp confessions, salad recipes, tips for herping better, etc.
Stay tuned for more episodes! And don't forget to herp better!
-Mike