Podcast: Play in new window | Download (Duration: 1:46:00 — 97.0MB) | Embed
Subscribe: Apple Podcasts | Google Podcasts | Email | RSS | More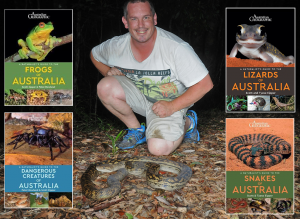 Hello everyone and welcome to Episode Twenty Six!  We've had shows coming from the United States, Mexico, and Canada, and now we get to add Australia to the list.  Last month I talked with Scott Eipper, who hails from Brisbane, up in southeast Queensland.  Scott and his wife Tie own and operate Nature 4 You, and though their company they are involved in wildlife demonstrations and education, surveys, consulting, and more  Scott and I talked about his work, but it was also great to chat about herping in Australia, and some of the differences and similarities to North American herping.  I enjoyed Scott's perspectives, and I have to say that I got more than a little pumped about someday visiting Australia, and perhaps the date for 'someday' just got bumped up a little bit.
We also talked about Scott's book projects (see above photo), co-authored either with his wife Tie or with Peter Rowland.  I have the frog book, and it's pretty good – I will have to pick up more before I head over to you know where.
Patreon:  This episode marks the Patreon kickoff for the So Much Pingle podcast, and a number of folks were kind enough to respond the first day!  Many thanks and an SMP shout-out to Justin M, HerpMX, Jill Rials, Smetlogik, Joshua Wallace, Ryan "Jungle Deviant" Borgmann, Marty Whalin, Christopher Smith, Emily Taylor, John Burris, Kamil S, Brandon Kong, ChellsBells, James van Dyke, and Brandon Ballard!  Much appreciated.  To others in the listening audience, if you like the show, please consider supporting it via the So Much Pingle Patreon page.
And as always, please keep the comments and suggestions coming!  The show email is somuchpingle@gmail.com, and there's also a So Much Pingle group on Facebook, for discussion, comments, feedback, suggestions, herp confessions, roos and wallabies, tips for herping better, etc.
Stay tuned for more episodes! And don't forget to herp better!
-Mike