Podcast: Play in new window | Download (Duration: 2:29:51 — 137.2MB) | Embed
Subscribe: Apple Podcasts | Google Podcasts | Email | RSS | More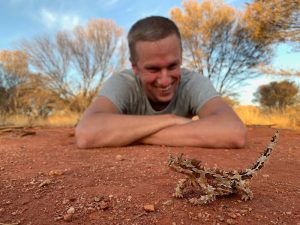 Hello everyone and welcome to Episode Twenty Seven!  And we add yet another country to the list with this episode, a lengthy conversation with Belgian researcher / author/ herper Jeroen Speybroeck, recorded on Thanksgiving.  We had a lot to talk about during this episode, including Jeroen's fire salamander research, herping in various places around the globe, and also his very good field guide to the herps of Britain and Europe (see second photo).  Jeroen and I are both life listers, and we talk about that a bit, and for the second show in a row, Australian thorny devils (Moloch) are discussed (top photo of lucky Jeroen and a thorny devil, I'm just a bit envious).
After the interview and before this episode was released, I got a copy of the Field Guide to the Amphibians and Reptiles of Britain and Europe (available on Amazon!).  Between the species descriptions, range maps, and lovely species illustrations by Ilian Velikov, the book is excellent, and Jeroen and his collaborators should be proud of the work.  I've been poring over my copy, stroking my goatee and making future plans…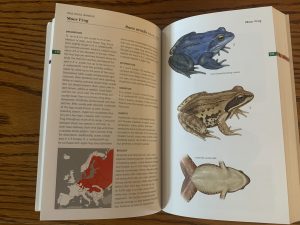 Another thing Jeroen and I have in common is the documenting of herp adventures – his trip reports can be found here and are most certainly worth your time.  Jeroen is also on Facebook and Instagram.  I hope you enjoy our conversation!
PATREONERS!  I want to give a shout-out to our new patreon contributors since the last episode: Mike Rochford, Josef Thompson, Alex Krohn, Matt Ratcliffe, Jeroen Speybroeck, Bryan Hughes, Brandon Bourassa, Josh Holbrook, and James Mcghee. Thank you all so much for supporting the show! I really appreciate it. To others in the listening audience, if you like the show, please consider supporting it via the So Much Pingle Patreon page. And thanks in advance!
And as always, please keep the comments and suggestions coming!  The show email is somuchpingle@gmail.com, and there's also a So Much Pingle group on Facebook, for discussion, comments, feedback, suggestions, herp confessions, life list bragging sessions, tips for herping better, etc.
Stay tuned for more episodes! And don't forget to herp better!
-Mike