Podcast: Play in new window | Download (Duration: 1:12:33 — 66.4MB) | Embed
Subscribe: Apple Podcasts | Google Podcasts | Email | RSS | More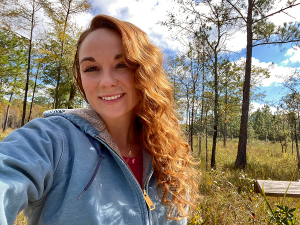 Hello again everyone, and welcome to Episode Thirty!  Today's episode was recorded just before Christmas.  And I hope you are all doing well – keeping your heads down and remaining healthy.
PATREONERS!  Here's a shout-out to new Patreon contributors to the show since the last episode:  Michael Cravens!. Thanks Mike, and thank you all so much for supporting the show! I really appreciate it. To others in the listening audience, if you like the show, please consider supporting it via the So Much Pingle Patreon page. And thanks in advance!
Our guest this week is Gina Zwicky, a New Orleans biologist who studies reptile immunogenetics, and leads NOLA FrogWatch trips.  I follow Gina on Twitter (she's @GinaGoesOutside) and I enjoyed getting to know her during our conversation.  We talked about her immunogenetics research (more specifically, anoles and malaria), Meatball The Tortoise, some interesting earlier work she did in the Pacific Northwest, and FrogWatch USA, which has chapters all over the place (see the link for more info), and hey, there's a FrogWatch online training seminar coming up on Feb 1st.
Thanks for coming on the show, Gina, and Happy New Year folks!  Let's stay safe and healthy!  Thanks again to all my Patreoners, and folks, if you haven't done so yet, please take the time to rate this podcast on whatever platform you use – that goes a long way to support the show and spread the good word.
And as always, please keep the comments and suggestions coming!  The show email is somuchpingle@gmail.com, and there's also a So Much Pingle group on Facebook, for discussion, comments, feedback, suggestions, herp confessions, sulcata demolition teams, tips for herping better, etc.
Cheers!  Mike