Podcast: Play in new window | Download (Duration: 54:56 — 50.3MB) | Embed
Subscribe: Apple Podcasts | Google Podcasts | Email | RSS | More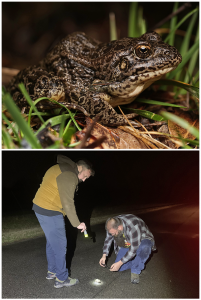 Hello everyone and welcome to Episode Thirty Six!  I hope everyone remains happy and healthy as we move into spring here in the northern hemisphere. It is a wild and wooly day out today here in central Illinois, with high winds and freezing rain, but spring will not be denied.
PATREONERS!  Here's a shout-out to new Patreon contributors to the show since the last episode:  Jeremiah Easter and Richard Legere!   Thank you Jeremiah, and thank you Richard, and thanks so much to all of my Patreoners for supporting the show! I really appreciate it. To others in the listening audience, if you like the show, please consider supporting it via the So Much Pingle Patreon page. You can also support the show via one-time contributions via PayPal or Venmo (please contact me via email).
For this week's episode, I packed up my recording gear and headed to southern Illinois, to participate in another Snoring Thunder adventure.  After a late Thursday night out chasing frogs in the middle of heavy rains, on Friday afternoon I sat down with Justin Michels and Jeremy Schumacher to discuss Snoring Thunder, crawfish frogs, Illinois chorus frogs, and a few other things.  That night we went out again and found a few more crawfish frogs before Justin and I made the long, late night drive back to our homes.
Many thanks to Jeremy and Justin for sitting down with me and having a fun chat.
And as always, please keep the comments and suggestions coming, and please take time to rate the show on your podcast platform! The show email is somuchpingle@gmail.com, and there's also a So Much Pingle group on Facebook, for discussion, comments, feedback, suggestions, herp confessions, your best frog calls, tips for herping better, etc.
Cheers!  Mike