Podcast: Play in new window | Download (Duration: 1:32:12 — 84.4MB) | Embed
Subscribe: Apple Podcasts | Google Podcasts | Email | RSS | More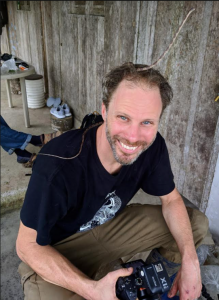 Hello everyone and welcome to Episode Thirty Nine!  And I hope you all remain safe and healthy as we move towards May, a busy time for herps and herp lovers in many places across the planet.
PATREONERS!  Here's a shout-out to new supporters Martin Habecker and Daniel Dye!  Thank you so much for supporting the show, and thanks as always to all of the folks who help keep the show going. To others in the listening audience, if you like the show, please consider supporting it via the So Much Pingle Patreon page. You can also support the show via one-time contributions via PayPal or Venmo (please contact me via email to somuchpingle@gmail.com).
In this episode, we talk with Ross Maynard about the Rio Mandiriacu Reserve, up in the mountains of northwestern Ecuador.  Now this conversation with Ross hits a lot of marks for me – new species of amphibians, conservation work, and adventure travel in foreign lands, and I hope you enjoy it as well as I did.  Ross works for the Biodiversity Group and he and other members are actively engaged in preserving critical habitat for many poorly known and endangered species in Ecuador.  See the photo gallery below for more images of the reserve, as well as some of the amphibians mentioned on the show, including Rhaebo ollalai and Nymphargus mandiriacu.
I encourage all of my listeners to help the Rio Mandiriacu Reserve project if possible.  You can learn more about the Biodiversity Group here, and you can make direct donations as well.
There is also The Biodiversity Group conservation swag & art shop on Etsy (all products made by Nathalie Aall to raise funds for TBG research efforts), and you can also check out Nathalie's personal Etsy store for more cool art.
Another way you can contribute is via Cameras for Conservation (for donations of functional cameras and other field equipment for reserve staff and local community members)
Also, be sure to check out Fundación EcoMinga, the NGO that manages the Río Manduriacu Reserve.  EcoMinga's pages highlight plants and animals from protected reserves, many of them new species, and you get a good idea of what's at stake here.  Also see Fundación Condor Andino, the NGO that Sebastian Kohn founded and operates (the original land owner of the Manduriacu Reserve–he is responsible for initiating the research and protection of the reserve).
Thanks for listening everyone!  And as always, please keep the comments and suggestions coming, and please take time to rate the show on your podcast platform! The show email is somuchpingle@gmail.com, and there's also a So Much Pingle group on Facebook, for discussion, comments, feedback, suggestions, herp confessions, Yaqui origin stories, tips for herping better, etc.
Cheers!  Mike