Podcast: Play in new window | Download (Duration: 1:06:43 — 61.1MB) | Embed
Subscribe: Apple Podcasts | Google Podcasts | Email | RSS | More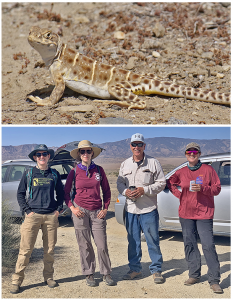 Hello everyone and welcome to Episode Forty!  I hope you all remain safe and healthy here in this fine month of May, the busiest of months for those of us in North America who enjoy getting out and seeing amphibians and reptiles. I just got back from a trip out west where John, Tim and I drove all over Nevada, California, Arizona and Utah, and we saw a bunch of cool herps, including a dozen or so species that were new to me.  As per usual I bring my mobile recording studio along, in the hopes of recording something interesting, and this trip did not disappoint.
But first, PATRONS!  Here's a shout-out to new supporter Nick Scobel!  Thank you so much, Nick, for supporting the show, and thanks as always to all of the folks who help keep the show going. To others in the listening audience, if you like the show, please consider supporting it via the So Much Pingle Patreon page. You can also support the show via one-time contributions via PayPal or Venmo (please contact me via email to somuchpingle@gmail.com).
For this episode, I was fortunate enough to spend a little time on California's Carrizo Plain with a group doing research and conservation work with the blunt-nosed leopard lizard (Gambelia sila).  After a long day of lizard looking, and lizard lassoing, and lizard processing, I sat around a campfire on a chilly evening and recorded a conversation with Robert Hansen, Emily Taylor, Katie Rock, and Savanna Weaver (They're all under the lizard in the photo). Bob of course is of course the long-time editor of Herp Review, and you will remember Emily Taylor from Episode Twelve recorded last summer.  I also spoke with Katie Rock about "Quantifying the Gender Gap in Authorship in Herpetology", an interesting paper that she and her coauthors published in the March 2021 volume of Herpetologica (and is featured on the cover!).  NOTE:  If you don't have access to the paper, drop me an email to somuchpingle@gmail.com and I will send it to you.  And last but not least, Savannah Weaver gave us the lowdown on the blunt-nosed leopard lizard and her ongoing research project.
Thanks Bob, Emily, Katie and Savannah!  I had such a great time talking with all of you!  Now of course, after listening to the show you'll want to follow these folks on Twitter:  Emily (@snakeymama), Katie (@KatietheeRock), and Savannah (@ScienceWithSav).
Thanks for listening everyone!  And as always, please keep the comments and suggestions coming, and please take time to rate the show on your podcast platform! The show email is somuchpingle@gmail.com, and there's also a So Much Pingle group on Facebook, for discussion, comments, feedback, suggestions, herp confessions, lizard lasso techniques, tips for herping better, etc.
Cheers!  Mike