Podcast: Play in new window | Download (Duration: 1:26:30 — 79.2MB) | Embed
Subscribe: Apple Podcasts | Google Podcasts | Email | RSS | More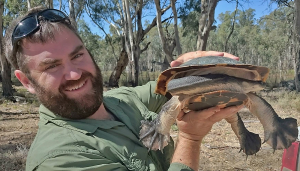 Hello everyone and welcome to Episode Forty Eight!  I hope you all remain safe and healthy out there.  We're edging towards fall here and that means that a trip to southern Illinois is looming – time for another visit to Snake Road, to visit with friends and walk the road and maybe see a serpent or twenty.  I'm looking forward to it as I always do.
SMP Patrons!  I want to thank our latest Patreon member, Pearson McGovern!  Thank you so much for supporting the show, Pearson!  I also want to thank Tom Eles for his recent one-time PayPal contribution. Much appreciated, Pearson and Tom, nd thanks as always to all of the folks who help keep the show going. And folks, if you like the show, please consider supporting it via the So Much Pingle Patreon page. You can also support the show via one-time contributions via PayPal or Venmo (please contact me via email to somuchpingle@gmail.com).
For this week's episode, we return you to the continent of Australia, and Dr. James Van Dyke is our guest. Van as he likes to be called, is a Senior Lecturer in Biomedical Sciences at La Trobe University's Wodonga Campus, in Victoria, Australia (Van's professional page is here). Now some of you may remember Van from the old Field Herp Forum where his handle was VanAR. As Dr. Van Dyke he has been living, working, and studying in Australia since 2012, and he's been involved with a number of very interesting projects, and I talked with him about sideneck turtles and placental lizards and a few other interesting topics.
Areas of interest connected to Van's work with sideneck include the TurtleSat Community Mapping Project, off to a great start with over 10K turtles mapped to date, and the One Million Turtles community conservation program which seeks to involve local communities in releasing a million baby turtles into Southeast Australian river drainages each year.
Thanks Van for coming on the show!  It's cool that we could have a conversation from opposite sides of the planet, and hopefully the world will get better soon and travel becomes a possibility again.  And thanks for listening everyone!  And as always, please keep the comments and suggestions coming, and please take time to rate the show on your podcast platform! The show email is somuchpingle@gmail.com, and there's also a So Much Pingle group on Facebook, for discussion, comments, feedback, suggestions, herp confessions, how to tell if you are a placental lizard, tips for herping better, etc.
Cheers!  Mike