Podcast: Play in new window | Download (Duration: 1:20:55 — 74.1MB) | Embed
Subscribe: Apple Podcasts | Google Podcasts | Email | RSS | More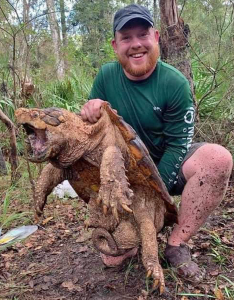 Hello everyone and welcome to Episode Fifty Seven!  I hope all of you remain safe and healthy out there.  Like many of you out there, I am so ready for winter to be over, or at least, the return of temperatures above the freezing mark!  It's been a rough one here in central Illinois.
Now before we get to the show, I want to take a minute to thank all of the show's patrons!  I appreciate all of the folks who help keep the show going and to reach fifty-plus episodes!. To others in the listening audience, if you like the show, please consider supporting it via the So Much Pingle Patreon page. You can also support the show via one-time contributions via PayPal or Venmo (please contact me via email to somuchpingle@gmail.com).
My guest this week is Ben Stegenga, a biologist who lives and works in Georgia,  on a number of projects for the Orianne Society. Ben gets to work with some very charismatic herps, including indigo snakes and spotted turtles and of course the stars of this episode, Suwannee alligator snapping turtles. Ben is very busy with his field work, and I was lucky to get an interview with him just before his survey season ramped up and put him out of touch.
Thanks for coming on the show, Ben!  And folks, be sure to check out the Orianne Society and please consider supporting them and their worthy conservation efforts.  Additionally, check out this research update on the Suwannee Alligator Snapping Turtle on the Orianne website, written by Houston Chandler.
Thanks for listening, everyone!  And as always, please keep the comments and suggestions coming, and please take time to rate the show on your podcast platform! The show email is somuchpingle@gmail.com, and there's also a So Much Pingle group on Facebook, for discussion, comments, feedback, suggestions, herp confessions, broomstick bite patterns, tips for herping better, etc.
Cheers! Mike